click image below to launch video window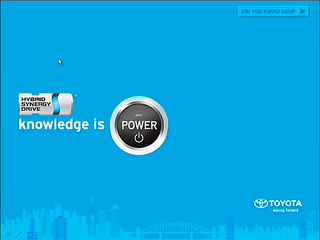 Toyota Hybrid Synergy Drive Training (2007)
This Powerpoint 2003 presentation was part of a training program developed by Maritz Interactions/Maritz Learning for University of Toyota, and was companion to an offset-printed Participant Guide and laser-printed Meeting Leader's Guide. Artwork developed by Maritz for the Participant Guide was the basis for this presentation, and illustrations were imported into the presentation as Powerpoint drawing objects (thereby keeping file size small) and then animated. The project consists of an optional walk-in loop (accessed via hyperlink) and the training presentation.
Production for this presentation had two stages. In the first stage we worked with the Maritz Creative Director to conceive of and develop the template, the walk-in loop, the title animations, and "mythbusters" section. These elements were more time-consuming to produce and contained less timely information . The second stage added the content from the Meeting Leader's Guide and was completed on a tight production schedule of a few days. During this stage, we formatted the Meeting Leader's Guide, written by Maritz Learning writers in Word 2003, and inserted presentation thumbnails using a process that allows for quick updates of slide changes.
The presentation, Meeting Leader's Guide, and supporting materials were distributed by Maritz to the end client via CD and FTP.
Produced for Maritz Interactions/Maritz Learning.