click image below to launch video window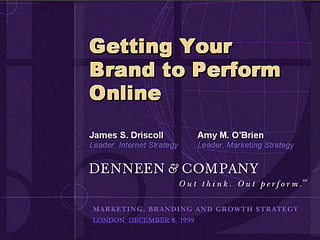 Internet Branding Presentation (1999)
In 1999, the Internet was still fairly new, and companies were scrambling to determine their place in the Web. Denneen & Company, a marketing and branding consulting company, gave this presentation to the International Internet Branding show in London, England. We worked closely with the consultants to illustrate their concepts visually, and finessed the presentation accordingly. The presentation was awarded Best in Show honors.
This is a Powerpoint 2000 presentation, and utilizes cached HTML files and Powerpoint-animated elements. The background was designed by a production company designer, which we then used to create a template and presentation elements.
Produced for Alternative Productions.