click image below to launch video window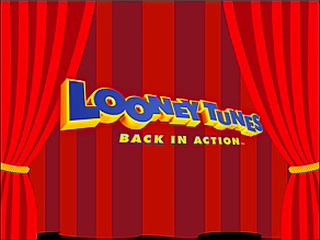 Looney Tunes Licensing Pitch (2002)
This Powerpoint XP presentation was originally produced by Route 66 Productions to run at the event which introduced potential licensees to Warner Bros.'s "Looney Tunes: Back in Action" movie property. After the event, the presentation was retooled as a stand-alone pitch.
The original artwork came from the official Looney Tunes stylebooks. Route 66 Productions' designers developed the background looks, which we then animated. The opening montage consisted of gathered free images, synced with the familiar Looney Tunes soundtrack. Animated .gif files and embedded movies provide more movement in this "looney" presentation.
We provided Route 66 with the opening montage, the transitions between background looks, and the completed template; their staff completed work on the file.
Produced for Route 66 Productions.