click image below to launch video window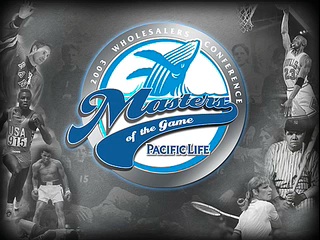 Pacific Life Sales Conference (2003)
This Powerpoint XP presentation was produced for the annual Pacific Life Wholesaler's conference, and, due to the company's banner year, was very light-hearted and fun. The "Masters of the Game" theme logo was provided by Maritz Interactions; the presentation design emphasized this theme.
Company honorees had been asked to identify their favorite sports figures, and, using Photoshop manipulation and Powerpoint animation, we turned these individuals into sports trading cards of their heroes (with some mixed results).
Produced for Big City Productions/Maritz Interactions.